Supporting the next generation of STEM professionals

At Arcus we are 'Technology led – people driven' and we're using the power of technology to drive innovation and results for our customers.
This week (11-20 March), is British Science Week, a 10-day national celebration of Science, Technology, Engineering and Maths. The theme for this year is 'growth,' which aims to get everyone to explore the different avenues of growth and what it means to them. We're exploring how as a business we are continuously looking to improve or find new initiatives to make energy savings for ourselves and our customers.  
We've teamed up with Andrew MacBride, SMaRT Hub Energy Manager, to hear his thoughts about working in STEM within Arcus.



What would you say to people interested in studying/working in STEM?
"The placement students that have worked with Arcus have all been able to apply the skills and knowledge from the STEM subjects they study at university to the work we do for our customers. Regardless of their specialist subject, they have been able to contribute to the innovation and ideas that deliver the substantial energy and carbon reductions that we're seeing in the customer-base. My advice would be to try and get a placement with a company like Arcus where they can develop their learning on multiple levels. Every single student has left us as being more confident, capable and well rounded.''



How has STEM helped Arcus in the FM industry?
"The students from the STEM sciences have made huge contributions to the work we do. The SMaRT hub excels in coupling the vast amount of explicit and tacit knowledge of the DMEs (Discipline Matter Experts) with the fresh ideas from the placement students and the IoT capabilities of the Helix/BILL platform. The key driver of innovation currently is data-led. We have a vast amount of energy, weather, and equipment telemetry data and it is being used to improve operational performance as well as identifying areas of overconsumption in energy that otherwise might have gone under the radar.''



How has the growth of STEM helped Arcus?
''The placement students that have worked with Arcus have all been able to apply the skills and ''Over the years, Arcus has had some very experienced people, with many years of industry knowledge, and since we started to welcome placement students, we now have a balance of fresh ideas and expert tactic knowledge that when combined can produce some wonderful innovations, which have contributed to huge energy savings for one of our major retail clients.''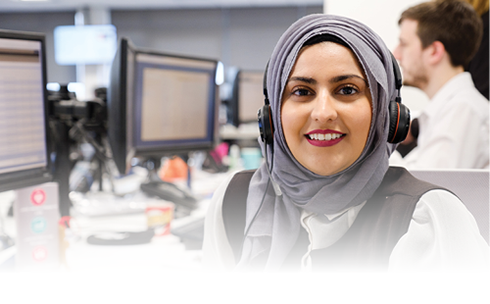 INTERESTED IN A CAREER
WITH ARCUS FM?
We offer a wide range of opportunities for those wanting to join us. Check out our careers website via the button below.
Click here